degenerate fox
PRESENTS
THE DIRTY THIRTY
A valiant attempt to perform 30 ever-changing plays in just one hour.
Like a phoenix rising from the ashes, the London Neo-Futurists have been reborn as Degenerate Fox. Remember Opal Fruits? And how much BETTER they are now that they're called Starburst? This is pretty much the same thing - same truth, same bravery, same unbelievable fruitiness, but under a new banner, flying a new flag, banging a new drum. And boy, is that drum loud.
Degenerate Fox produce theatre that removes all artifice - we are here, we are us, you are you, the time is now. We will engage, titillate, confront, expose, encourage, confess, and above all...entertain.
'The Dirty Thirty' is a collection of thirty original plays which Degenerate Fox will valiantly attempt to perform within one hour. These play could be anything - comedy scenelets, dramatic monologues, intricate dances, games, songs, experiences, and stuff there just isn't a definitive name for. Degenerate Fox create new material to add to the Menu each week, creating an ever-changing smorgasbord of theatrical delights. And perhaps most exciting of all? YOU get to decide the order in which the plays are performed! Yes, YOU! UNLIMITED POWEEEEEERRRR!!!

Come and be a part of a show in which each performance is an unreproducible, living newspaper of the comic and tragic, the political and personal, the visceral and experimental. If you've seen the show once, you've seen the show once. Just that one time.
CHECK OUT A FOUR STAR REVIEW OF THE SHOW HERE! ****
The 1st and 3rd Friday & Saturday of every month at 9pm
ROSEMARY BRANCH THEATRE, LONDON N1 3DT
Our next performances:
JUNE 21 & 22 !NEW FOX!
JULY 5 & 6 !PRIDE SHOWS!
JULY 21 & 22 !NEW FOX!
AUGUST 2 & 3
AUGUST 16 & 17 !NEW FOX!
PRIDE 2019!
Join us this July for a celebration of all things rainbow!

It's one of our favourite times of the year - a chance to bring back some of our old favourites and dole out some juicy world premieres all full of love for everything LGBTQIA+
We'll be collecting for charities that support all the queeroes in the world.
Dress code: Eco-friendly rainbow glitter or whatever makes you feel powerful, darling!
<3 <3 <3

JULY 5TH & 6TH
9PM, ROSEMARY BRANCH THEATRE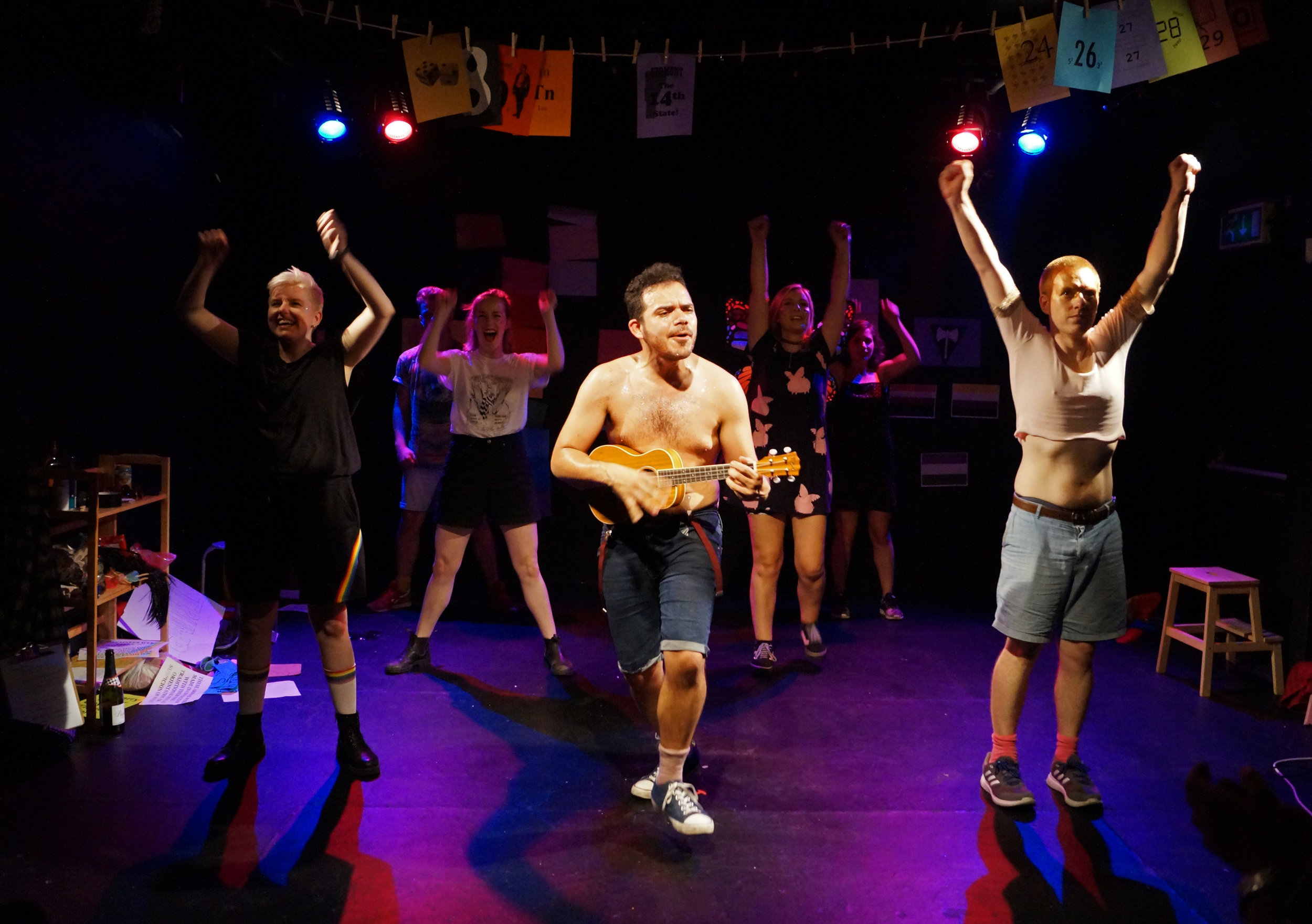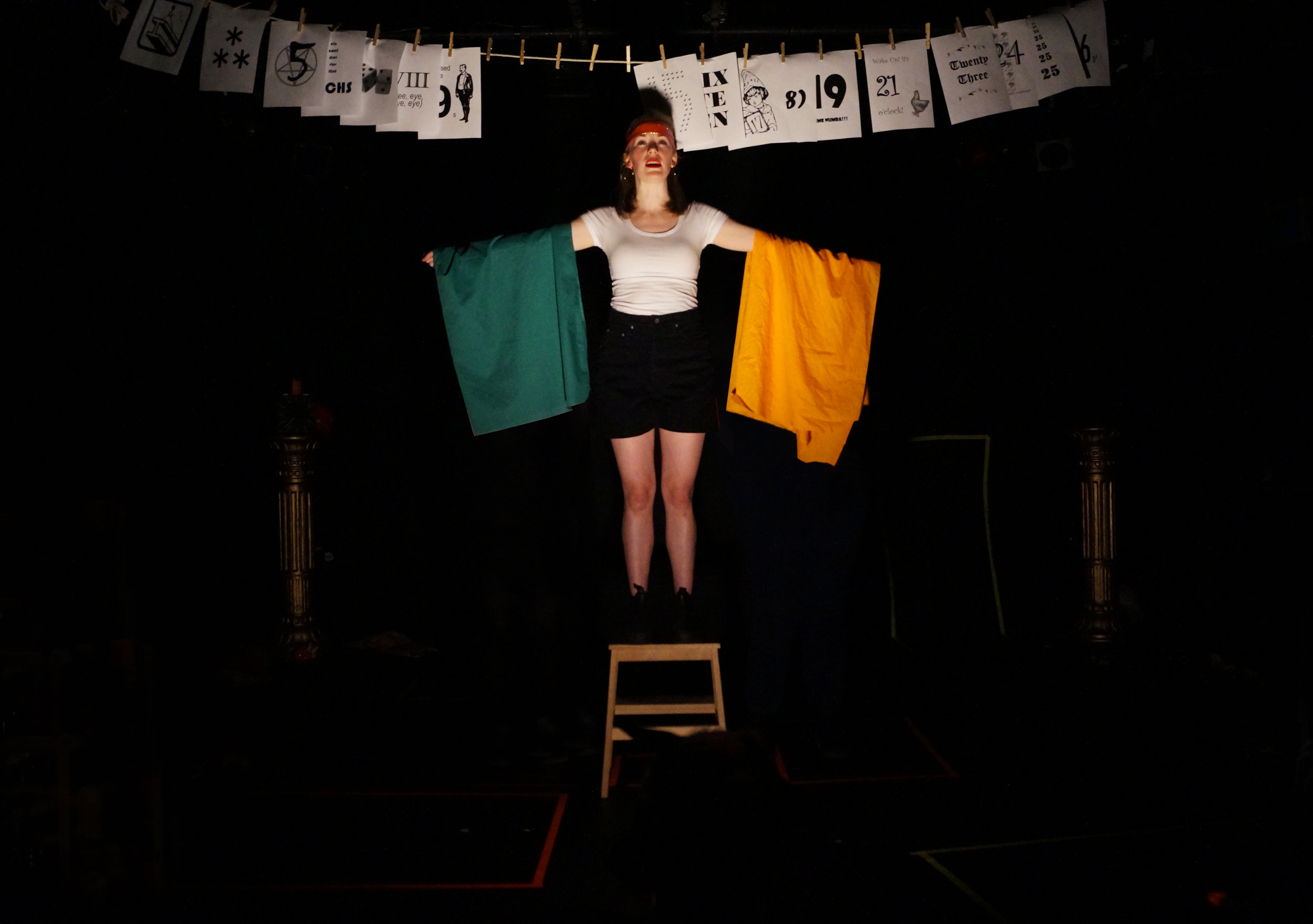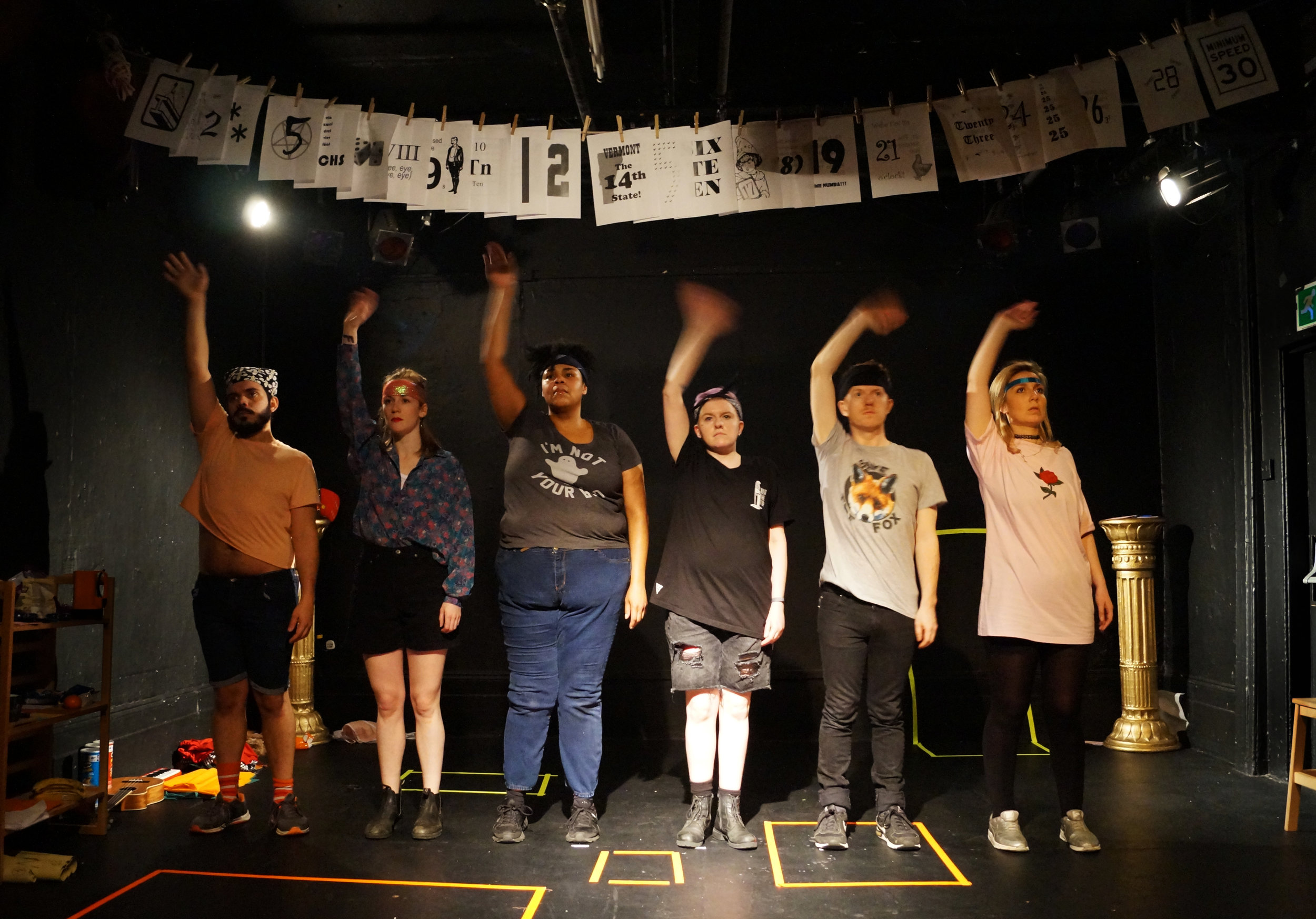 AIDAN BOSE-ROSLING
Aidan is non-binary, a performer, writer, director, crazy person. She directed a movie one time (Type in Aidan the Jester on YouTube), sometimes gets paid for acting, does standup and drag (check out her insta: @aidanthejester). She is proudly very queer and has shed all aspects of being straight, including dissolving her gender. She spends a lot of time thinking about how hard it is to be non-binary and an actor (Yes, you can still cast me as a boy. I want Alan Rickman's career of playing baddies). She is hoping to continue to push boundaries and make radical art that is challenging and beautiful.
DESIREE BURCH
I am not some other girl. I am Desiree Burch. I have spent my life laughing like a bicycle horn. I am built like a small tree. My hair grows up toward the sun. People like to agree with me, because I am most often saying yes. I believe in yes.
I hail from my mother's womb, which continues to reside in Southern California. I loved the sun but hated the need I felt to be someone else under it. I survived through a series of best friends and prime-time television shows until (and I guess maybe through) my sophomore year. Then I joined the caravan of drama geeks at my high school and finally felt I had a home.
I decided that I wanted to see how my voice sounded surrounded by tall buildings instead of mountains, and moved to the east coast.
I studied at Yale and then ran away to join the circus of New York City. I loved it. I lived it. And then, after 13 years, I learned I had to leave it if I was going to have room for other things in my life. I met a boy and moved to London, where there is the right amount of green space between the big buildings to soothe my soul, and the right amount of big buildings full of people who want to make our own beautiful things too.
So now you know: I am both funny ha-ha and funny peculiar. Which makes me inclined toward things like writing, acting, solo performance and stand-up comedy. Which is what I do, when I'm not hiding under a blanket, overwhelmed with onslaught of froahfrjakegvuaihegranrvnragruhieafheualwn. No, that is not a town in Wales.
I want sobbing at my wedding and laughing at my funeral. A Dixieland-style procession through Central Park or Hyde Park is also acceptable.
KATE JONES
How does one write a bio for Kate?
She's never even been to Kuwait.
She can be quite sly,
She really loves pi
And it's no coincidence her name rhymes with late.
LAURA KILLEEN
Laura Killeen is a theatre-maker from London and graduated from the Neighborhood Playhouse School of the Theatre, NYC, where she was awarded the Anne Meachum Memorial Scholarship. Her solo performance in Homewrecka won Best Experimental Film at the Syracuse International Film Festival 2010, garnering such reviews as "she traumatized me"- Ed Harris. During her time in New York she spent a year interning and working at The Juilliard School Drama Division under Founding Artistic Director of Signature Theatre, Jim Houghton.
Laura Killeen has performed in award-winning theatre, film, art and radio. She has directed theatre at the RADA Festival, Bloomsbury Festival and at the White Bear Theatre. She has been published, her writing having been performed in London, New York City and Tel Aviv.
Laura Killeen has an MA in Text & Performance from RADA & Birkbeck, University of London.
She is a Degenerate Fox, a Carnival Girl and a feminist.
ELENA LARIOS
I am an actor and theatre maker born in Sevilla, Spain. Theatre has always been my greatest love. When I was 16 I toured Cuba with a production of Blood Wedding (I know, I was a cool teenager). When I was 18 I moved to Madrid to train at RESAD - the most prestigious drama school in Spain - where I graduated in Acting in 2012. In 2015 my love for the English language and a need for change drove me to spend a summer in London, and I haven't left since (who can tell when it's summer and when it's not?). Some of my credits in Spain include the multi awarded show A Solas con Marilyn, and the classic Hécuba, as part of the International Theatre Festival of Mérida. In London I have worked with The Spanish Theatre Company in the shows Story of a Staircase, Blood Wedding and Summer in December. I have also starred in several feature films such as Amber, premiered at the Raindance Film Festival. I am now devising my own show, Olives and Tea, that will be presented at the Edinburgh Fringe this year, and I am super excited to be a new member of the Degenerate Fox family!
GABRIELLE MACPHERSON
If you are going to the bar, mine's a large rosé or a caipirinha. Thanks!
SERGIO MAGGIOLO
Sergio Maggiolo Bogino is a Peruvian actor, director and translator living in London. Sergio trained as an actor at the Atlantic Acting School in New York, and has worked for theatre companies like Plan 9 in Lima, Pipeline in New York and Front of House in London. He's currently a member of Out of the Wings Collective and the Spanish Theatre Company as well as the Degenerate Fox Theatre. His latest work on stage includes Una Historia de Poliamor, Blood Wedding and The Bum-Guff King.
RUDZANI MOLEYA
South African born, London based, multi-talented performing artist, trained in acting, singing and dance. Graduated from the Cape Academy Of Performing Arts (CAPA) with a distinction.
Since, I have been trying to find my way in this crazy beautiful world. I wear head wraps a lot, mainly because I am too lazy to comb my hair and I am tired of people commenting on it. I love all animals, mainly dogs. Hate snakes, fear spiders and almost NEVER sit on the toilet seat. I write poetry, I cry when I am scared and truly believe music heals/feeds the soul.
BENJAMIN RIDGE
TOOT TOOT - self horn tooting commence:
Benjamin Ridge is a published writer, ever-searching actor and tragic comic surviving in London. In 2014 Benjamin achieved a 'Masters in Drama and Theatre Studies, with a pre-professional year in Stand Up Comedy: First Class Honours', from the University of Kent, Canterbury. It was a year abroad studying at the University of California, Irvine, in 2013, that solidified his skills as a comedic performer, by getting to grips with the Improv Comedy world, writing and performing sketch comedy and training as a clown.
These skills now allow Benjamin to blag any task and perform at children's birthday parties for questionably young sprogs. Who are the parties really for?
Benjamin has performed at comedy festivals in the UK and America, and as an actor in London, Edinburgh Fringe Festival and New York. Benjamin was first published in an American book in 2016 called 'LGBTQ Comedic Monologues That Are Actually Funny', as part of the Applause Acting Series, published by Applause Theatre & Cinema Books. Those monologues were developed from a longer piece titled 'Hmmm' which was performed at The Etcetera Theatre, in Camden, in 2015, with Empty Photo Theatre.
Now a freelance creative, Benjamin works a selection of jobs to support his reason for living: to create.
GRAHAM SELF
Graham Self is. We are pretty sure of that. Although it is possible that Graham stops existing when you're not looking at him. Please look at him.
Graham is a male identifying actor but he has never performed in a play by Harold Pinter. He has stabbed Julius Caesar, he has ranted angrily in drag in Charenton Asylum, he has appeared in a web-series that was described as 'offensive' by the Murdoch press, but he has never silently menaced someone across an ugly couch in that quintessentially Pinter-esque way.
Graham is a Scottish/Australian identifying writer. He has written award-winning sketches, award-nominated stand-up, esoteric film reviews, esoteric films, tweets for cash and short stories with non-linear structures and second-person narration, you read.
Graham's other creative outlet with an adjective-mammal naming structure is improv troupe Amorphous Horse.
JACK WAKELY
30 Things Jack Can Do With 60 Minutes:
1. Travel to most places in London from Catford
2. Take a nightly bath
3. Listen to Frank Sinatra's Future album, twice
4. Read 29,040 words
5. Watch an episode of Better Call Saul, with toilet breaks
6. Kill time whilst waiting for an unpunctual friend, covertly reading every gossip magazine
7. Eat a frankly embarrassing number of wings
8. Space out on a bus and end up in the wrong borough
9. Dirty every saucepan in the kitchen
10. Dance the dance of their people to the point of exhaustion
11. Write one play
12. Alienate a roomful of people
13. Confess their wrongdoings to a gathered crowd in Trafalgar Square
14. Enjoy 2.6% of their oversized Spotify playlist
15. Make a friend for life
16. Contemplate their own mortality long and hard enough to weep
17. Repeatedly recalculate the exact number of minutes they have to sleep before getting up for work, whilst failing to sleep
18. Create ten new names for and a collection of peppy songs about a cat they've just met
19. Dismantle their own best arguments
20. Take an ill-advised nap
21. Window shop contentedly in a stationery shop
22. Complete the Crystal Palace Park Maze, screaming all the while
23. Forget your name
24. Drink a bottle of wine and accept the oncoming regrets
25. Escape a room
26. Get up, showered, dressed and out of the house
27. Charm your parents
28. Kick out, on average, eight anecdotes
29. Go without speaking (EXPERT LEVEL)
30. The Dirty Thirty